Electrical Services to Meet Your Needs
Northeastern Oklahoma Electric Services offer a wide variety of electrical lighting services to meet the needs of both residential and commercial customers in the Claremore area. Our certified and experienced electricians provide top-notch service for any type of electrical job. We are here to help you keep your property running efficiently, no matter how big or small the project.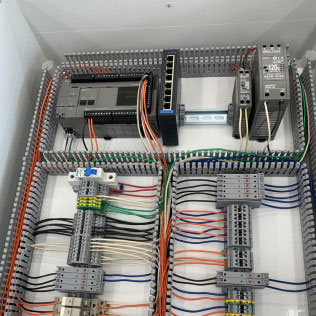 We pride ourselves on providing reliable and efficient services for all types of electrical projects—from simple repairs to full rewiring jobs and solar panel installations. Whether you're looking for expert advice or just need someone who can take care of a special task, our qualified electricians are here to make sure everything runs smoothly. Here are our commercial and residential services:
Lighting Services
Solar Panel Services
Generator Services
EV Charging Stations
Electrical Repairs
RV Hookups
Electrical Maintenance
Fix Unreliable Outlets
Electrical Wiring
Electrical work
And much more.
EV Charging Stations
You can conveniently power your electric vehicle from the comfort of your home by using our full-service installation EV charging points. Our charging points range from standard plugs to wireless chargers with remote configuration, real-time monitoring, output adjustment, and power sharing.
Electrical Maintenance and Repairs
Maintaining your electrical system safely and efficiently requires ongoing maintenance and repair services. Using their expertise, our electricians can inspect electrical systems and lighting fixtures and provide the most cost-effective and efficient repairs.
Electrical Services
We can do everything – from wiring a new light switch to overhauling an entire electrical system. Our fully certified technicians have the experience and tools to ensure your property wires are up to code. That way you can enjoy the modern comforts and conveniences that depend on reliable power. We have the electrical services you need for our home or business.
Lighting Solutions
You will find the perfect lighting solution for your project in our collection of lighting options. From multi-residential buildings to industrial and commercial properties, we provide every possible lighting solution. Northeastern Oklahoma Electric Services can help you choose the proper lighting for your residential or commercial building, whether you are looking to save money on your electric bill or upgrade outdated fixtures.
Generator Services
We have a variety of generators equipped to meet any electrical requirement. Our electrical contractors can help you find the generator that best suits your home or commercial property and prevent installation errors.
Solar Panels
Solar energy is an economical, environmentally, and sustainable solution for energy production. Put your neighborhood on the clean energy map with a customized solar installation. Save money on energy bills and reduce your carbon footprint with solar energy.
Request a Service Appointment Today
Your electrical repairs and upgrades are in good hands with Northeastern Oklahoma Electric Services. We have years of experience in electrical and lighting, offering competitive labor rates and phenomenal results. For all of your electrical needs, contact us today. Please call [company_number] to schedule a service appointment.